If you're about to start investing, you'll want to read every word on this page …
Discover The Proven Step-by-Step

Time-Tested Strategies That ANYONE Can Use
To Build Long-Term Wealth
It is no secret; leaving our money in the bank does nothing to grow our wealth. Regardless of what the inflation rate is (which, by the way, often feels more than what is 'officially announced'), there is almost always no way we can beat inflation simply by accumulating our savings in the bank.
Furthermore, the cost of goods has increased more rapidly than the increment of the average salary.
You already know that; that's why you are now open to what else is possible.
Getting a second (or third!) job won't work; most people are already working long hours in one job and barely have time for themselves or their families. Taking on another job will burn them out.
Working longer hours may seem to alleviate the problem temporarily. But that's still trading time for money. How many 'extra hours' can the average person work before he/she burns out too?
You may have already considered those options and realized those aren't the solution as well.
What set of skills, you ask? Well, it's a proven, time-tested set of skills that countless others have used to accumulate their wealth … called "Value Investing".
Very simply, value investing is "The strategy of selecting stocks that trade for less than their intrinsic values. Value investors actively seek stocks of companies that they believe the market has undervalued." - Investopedia
Free 2-Hour Seminar:

 Introduction to Value Investing
Synopsis
This 2-hour seminar is designed for individuals who want to build long-term wealth with a proven and time-tested strategy used by even the richest investor Warren Buffett, known as Value Investing. Participants will be introduced to both the theory and the practical aspects of value investing in equities -- made simplified for ordinary retail investors. Key investment approach is based on the philosophy of value investing as introduced by Benjamin Graham and successfully adopted by Warren Buffett.
Value Investing is best suited for investors who do not have time to actively monitor and trade in the stocks market frequently but enjoy the process of collecting dividend payout and capital appreciation over time.
Learning Outcomes
After completing the Introduction to Value Investing Seminar, participants will able to: - Discuss the Importance of Investing and Passive Income - Discover how much they need for Retirement - Describe how to start their investment journey with just $10 a day - Use the effect of compounding returns to build their net worth - Explain what Value Investing is - Understand the 3R Investment Framework in Value Investing
Outline
The key topics covered in the seminar are as follows:
1. True Inflation Rate vs Interest Rates
2. Importance to grow the savings more than Inflation
3. Identify stocks with the Right Business Model, Right Management and the Right Valuation
4. How to get into a network of like-minded value investors
5. In-depth Discussion & Analysis of ONE Real-Life Dividend Growth Company
Seminar Requirements
This workshop is conducted in English and is designed for people who have little or no prior knowledge in Investment.
Which Value Investing Seminar
Would You Like to Attend?
Trainer's Profile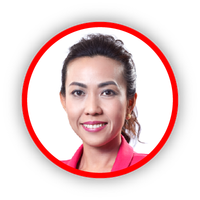 Ms. Pauline Teo Puay Lin
General Manager
Pauline Teo, author of "Value Investing for Women", is currently the General Manager of the Financial Education & Training Seminar business at 8I Holdings Ltd. Having personally mentored by Ken Chee and Clive Tan, Founders of the 8I Group, Pauline has achieved 23.2% compounded return per year (inclusive of dividends collected) from the last 4 years of her investment journey. Using value investing principles, 4 out of 8 stocks that Pauline invested in has achieved more than 100% return.
With over ten years of experience in training and development, Pauline realizes her passion of people development and investment by actively taking part in the designing and structuring of courses & training modules. To date, she has developed more than 50 courses, with competencies ranging from customer service, communication & interpersonal skills and value investing.
Pauline graduated from Nanyang Technological University with a Master of Arts (Instructional Design and Methodology) and a Bachelor in Business Studies. She is also a certified facilitator for "The 7 Habits of Highly Effective People – Introductory for the Associates". She has been featured on 938LIVE, a Singapore Radio Station, on the topic of Value Investing.
Today, Pauline is very much dedicated in paying it forward by educating the public on how to take charge of their financial future. She believes that you are your best advocate in managing your own finances.
8I Education (S) Pte Ltd 
Subsidiary of 8I Holdings Limited (ASX:8IH)
Goldbell Towers, 47 Scotts Road, #03-03/04,
Singapore 228233.
Tel: +65 6225 8480
Fax: +65 6235 0332
Earning Disclaimer
"Please note that the material here is provided to you for general information and illustrative purposes only, or as descriptive case studies on how our value-investing principles may be applied. It is not intended to be and should not be construed as any form of general or specific financial advice. For the avoidance of doubt, we do not recommend or provide opinions on how or what you should or should not be investing in, and you should always do your own research and independent assessment before making any investment decisions, taking into account your own specific circumstances. If you require any financial advice on investments or any other financial matters, please consult the relevant professional financial advisers."